If you need anything, please let us know.
son of Zebedee
the Theologian
son of Alphaeus
(Thaddaeus),
Brother of the Lord
the Zealot
What we believe
JESUS CHRIST
JESUS CHRIST
JESUS CHRIST
JESUS CHRIST
JESUS CHRIST
JESUS CHRIST
JESUS CHRIST
JESUS CHRIST
JESUS CHRIST
JESUS CHRIST
JESUS CHRIST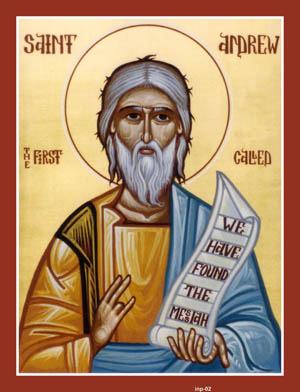 Andrew

It fell to him by lot to spread the Gospel in Bithynia, the Propontis, Chalcedon, Byzantium, Thrace, Macedonia, all the way to the Black Sea and the River Danube, as well as in Thessaly, Hellas, Achaia, Amisus, Trapezus, Heraclea, and Amastris.

In Amisus, a city east of the Black Sea, and somewhat more than 76 miles from Sinope, the Apostle found many Jews who were benighted by spiritual ignorance and impiety. Yet, despite this, the people of Amisus took delight in showing hospitality. They would receive all foreign travellers into their city and homes, and would minister to them as they were able. Thus, when the holy Andrew entered Amisus, he was taken in by a caertain Jew. The saint then gave thought to how he might convert such a multitude of people. The following morning, the Apostle went to the synagogue of the Jews, where they asked him pointedly who he was, why he had come among them, and what was his preaching. The holy Andrew, expounding upon the teaching of our Savior, and of Moses and of the prophets, then demonstrated how Jesus is the Messiah foretold by the prophets, and that He would come to save mankind. Then the word of Christ, Who said, "I will make you fishers of men," was fulfilled. The Jews hearkened to the words and teaching of Christ's Apostle and straightway repented, believed and were baptized, becoming Christian servants of our Lord. They brought to the Apostle all their sick, and he healed all of whatever diseases afflicted them. Thus, the holy Apostle became not only a physician of bodies, but one of souls as well. He erected a church in that place and ordained one of their number to the order of the Presbytery.

From Amisus, he left for Trapezus, where he taught and baptized, and ordained presbyters. This he also did in Laziki, where countless Greeks and Jews were brought to Christ. Then, he resolved to go to Jerusalem, not only because the feast of the Passover was approaching, but also because he desired to see his brother Peter. And he was also greatly desirous to see the Apostle Paul, whom he had heard was to be the Apostle to the gentiles. Thus, he returned to Ephesus with St. John the Theologian, whose lot it was to labor in that city; but when he reached that place he received a revelation from God instructing him to go and preach the Gospel in Bithynia. Straightway, he departed and entered the city of Nicea, where he saw many Greeks and Jews, and taught and performed miracles. And they came to believe on Christ. He healed many sicknesses instantaneously; and with his iron staff, which bore upon it the emblem of the Cross, he drove away some of the wild beasts which preyed upon men, and slew others of that kind. Moreover, he destroyed the foundations of the pagan temples of the false deities Aphrodite and Artemis.

Those Geeks who resisted the Apostle's teaching became possessed by evil spirits, which entered into them and tormented them as just retribution for their obstinacy and unbelief; and so vexed were they that they began to gnaw at their own bodies. Yet Andrew, the disciple of Him who had come to save sinners, took pity upon them and expelled the demons from them; and they came to believe and were baptized. The Apostle sojourned for two years in Nicaea and ordained a presbyter for that city. He then passed on to Nicomedia, which was a populous city, and baptized Greeks there, before removing to Chalcedon, near the Propontus, Scoutari near Byzantium, and finally Neocastra, where many were converted and baptized. He also travelled to Prontoheraclea, and from thence to Amastrida, a city of the province of Bithynia, and its environs. Having ordained presbytery there, he went to Sinope, a city of Pontus, where, it is said, his brother Peter came to see him. Indeed, to this day, the Christians of Sinope exhibit two marble thrones, which they maintain were the seats of these Apostles. They also display an ancient, wonder-working icon of the holy Apostle Andrew.

Before the Apostle Andrew arrived, however, the Apostle Matthias, also one of the twelve, who was selected to take the place of Judas, went to Sinope. Yet as soon as he had begun preaching in that city, he was arrested and cast into prison. When the Apostle Andrew arrived and heard that his colleague had been incarcerated, he prayed on his behalf, and instantly the shackles wherewith Matthias was fettered fell away, the portal of the prison opened, and he emerged, free. Now, at that time Sinope was the habitation of a fierce and unbelieving people. When they saw that Andrew had violated the fastness of their prison, they surrounded him. Some spoke of burning down the house in which he abode, and others planned how they might take him. At last, they seized him by his hands and feet and pushing him they drove him down the road through the dirt, mercilessly beating him the while. When they passed outside the city, they cast him into a dung-heap, confident that he had expired from his ill treatment. But the Apostle endured all this abuse patiently, emulating his Master, Christ. And the Lord did not permit His disciple to remain tortured and misused in this manner, but appeared to him, healing him and exhorting him to be of good cheer. And even though the savage people had broken the Apostle's teeth and cut his fingers, he was completely restored to health. And blessing him and telling him not to flag in his efforts to teach and convert the ungodly, the savior ascended into the heavens.

The next morning, very early, the Apostle entered Sinope again, in full health, his body unmarked by wounds or bruises, countenance full of joy and gladness. The inhabitants of that place marvelled greatly at his super-human endurance and the great miracle which Christ had wrought; for they had been convinced that he had died. But now, all saw that his wounds had disappeared during the night; and because of this, they repented and fell at Andrew's feet, begging forgiveness. Then he taught them the word of truth and baptized them in the name of the Father, Son, and the Holy Spirit, for they accepted the Christian Faith and believed on the Savior and Redeemer of their bodies and souls. At that time, the holy Apostle also performed a great miracle: there was a woman present, whose only son had been slain by an enemy; and she fell down before the Apostle, confessing her belief in Christ with all her heart and soul. Moved to pity, the holy one raised up her child from the dead, that the newly converted might know the one true God. And when they beheld this, they were all converted.

Thereafter, the divine Apostle ordained presbytery and went on to visit Amisus and Trapezus a second time, baptizing those few remaining who had renounced their delusion. From thence, he went on to Neocaesaria before passing on to Samosata, where many Greeks dwelt who held themselves to be the wisest men on earth. Notwithstanding, the all-wise preaching of the Apostle cut through the Hellenic reasoning of their rhetors as though it were a spider's web, exposing their deception; and they were persuaded both by his words and his miracles, and all repented and received baptism. Afterwards, he departed for Jerusalem to meet with the other Apostles and to celebrate the Passover of the Christians. There they convened a synod, which is mentioned in the Acts of the Holy Apostles, as recorded by the divine Evangelist Luke: "And the Apostles and the elders came together to consider of this matter [whether it was necessary to circumcise converts]" [Acts 15:6].

After the feast of Pascha, the holy Andrew, accompanied by the Apostles Matthias and Thaddaeus, set out for the city of Chorassam, in the parts bordering Mesopotamia. Andrew, however, remained with them for but a few days, leaving them to preach in that region while he proceeded to the area east of the Black Sea, to the Alani and Abasgians. In the cities of those parts, he drew multitudes to the Christian Faith. He then passed on to the peoples of Zygi, the Bosporians, and then the straits of Kafa, where he sojourned for a long time, preaching Christ and teaching all; and many came to believe in Christ, and were baptized. His next center of activity was the city of Byzantium, where he performed many miracles and instructed many in the knowledge of God. Indeed, the people of Byzantium not only embraced the light of the Truth, but even erected a magnificent church in honor of the all-holy Theotokos. As bishop for them he consecrated Stachys, one of the seventy Apostles, of whom St. Paul made mention in his Epistle to the Romans [Romans 16:9]. He travelled next to Heraclea of Thrace, which is situated to the west of Byzantium; and there he converted many to the Orthodox Faith, and ordained Apelles bishop.

But Andrew himself, undertaking Apostolic labors and enduring pangs in the spreading of the Gospel of Christ, passed on through Pontus, the seaboard of the Black Sea, Scythia and the Chersonese. By God's providence, he reached the River Dnieper in the land of Russia, and halting upon the shore beneath the hills of Kiev, he lay down to rest. When he arose from sleep in the morning, he said to his disciples who had accompanied him, "Believe me, on these hills the grace of God will shine forth. There will be a great city here, and the Lord will raise many churches in this place and enlighten all of the Russian land with holy baptism." And ascending the hills, the saint blessed them and set up a cross, prophesying that the people who dwelt there would receive the Faith from the Apostolic see he had established in Byzantium.

Later the wife of Aegeates, Maximilla fell sick. St. Andrew came and healed her. When they tried to pay St. Andrew for the miracle he said, "Our Teacher hath said, 'Freely you have received, freely give.'" Evidently this was not enough to convert them to Christianity. However, after Aegeates took leave to appear before Caesar to make a report of his administration and to receive further orders one of the servants that accompanied Stratocles, his brother who was acting as administrator in his absence, began to suffer from a violent epileptic seizure. Maximilla told Stratocles how she was healed by St. Andrew. He then summoned him and as soon as St. Andrew entered, the servant regained his health. When they saw the miracle they became Christians.

Yet Aegeates was absent and remained in unbelief. Because his wife had converted to Christianity, she would no longer associate with her pagan husband, and this brought his wrath upon St. Andrew. He arrested St. Andrew. He was ordered to be stretched out and beaten after having spent tim in prison and then he crucified him dead downwards on an X shaped cross. Instead of nails, he was bound because he did not want Andrew to die quickly, but wanted him to suffer. Despite the fact that he was then eighty years old it was after three days of agony on this vile device, St. Andrew died. St. Andrew's remains were brought to Constantinople two hundred years later and in 1460 his head was given to the pope. On 24 September 1964, in an ecumenical gesture, the head was returned to the people of Patras by the pope.





DID YOU KNOW???
50% of children will lose their faith in college. 3 times more people will become an atheist than will find any faith whatsoever. Join us in our journey restoring faith in Jesus Christ to lost souls. There is a war being fought spiritually speaking. Our mission is to restore people to faith in Jesus Christ, but also equally important, a true understanding of ancient Christian belief and practice. The True God IS TRINITY. This is the truth expressed by the apostles, and it is the truth that we too will express.


JESUS CHRIST IS RISEN †††
Many times we wonder to ourselves, "Is Jesus really alive?" We question our faith because the world tries to tear us down by telling us that Jesus was a mere man. Is that true? If we examine the history, we shall see and be convinced of the TRUTH.

This is the gospel. Jesus Christ is Risen from the dead. It can be historically proven that the Christians were being tortured and killed as early as 49AD. 500 Christians claimed to have seen Christ risen from the dead all at once. Thousands were seeing the miracles. People being raised from the dead, healings by as little as touching Peter's shadow, Handkerchiefs from Paul worked mighty miracles, and prophecy was witnessed in its fulfillment. The early Christians were in a place to know if they were lying. Why would thousands of people make up and lie about Jesus being risen from the dead then get tortured for their lie. They were thrown to lions, they were crucified, they were burned alive, they were skinned alive, and just about every other imaginable torture. Only one conclusion. Jesus Christ is risen from the dead.

The TALMUD is an ancient writing that was written by the Jews who put Jesus on trial and sought to kill Him. They hated Jesus, and had no reason to make Him sound better. In this ancient document they accused Jesus of deceiving the people with sorceries. They could not deny His miracles, but had to come up with another explanation because EVERYONE saw and knew He performed miracles. There is no solid basis for denying Jesus was in fact a miracle worker. Even Josephus who was a Jewish historian during that time wrote about Jesus and His miracles. He was writing to please the Romans and He would not have included it if it were not true, because the Romans would not have been pleased with it at all.

JOSH MCDOWELL also has an interesting story. He had actually tried to disprove the bible. When he was in law school some Christians challenged him to disprove the bible. He thought it would be a piece of cake. He was so serious about disproving the scriptures, that he quit school and went to Europe to study in the libraries enriched with material. He even felt that if he could disprove one point the whole thing would be disproven. Needless to say, he was addament and he would not give up easy. Then to everyone's amazement he came back a Christian. What he said was that the historical evidence would prove in the court of law that Jesus Christ is Resurrected from the dead. He has now written many books on the topic and he explains what convinced him. On of the most shocking discoveries he made was that the scriptures were actually written in the first century by the Apostles. He more thoroughly explains this in his book "EVIDENCE THAT DEMANDS A VERDICT." (Click the link if you would like to purchase his book: it will be in the Christian books section) He said that if you were to destroy every single Christian New Testament including the ancient manuscripts you could still reconstruct the New Testament using early Church Father quotes of the New Testament except for 11 verses. The fact is that the New Testament is preserved authentically as it is supposed to be. It is not perfect, but close to it. He quotes all of the experts on this subject, and even the liberals have to admit that they could not have been written later than the 2nd century. Yet, even if they were written in the second century, I will explain why they are still accurate. However, Many experts do say that they could not possibly date beyond the first century. Namely because people that were alive in the first century quote the New Testament. Also after studying the book of Acts, they said that Luke was so detailed that when one studies they will find that the book of Acts simply won't fit in a second century setting, only in the first century.